For the month of April I am looking for 3 people to have a 'pretty toes' pedicure party! Who ever has the most friends in attendance wins a free pedicure set. See below....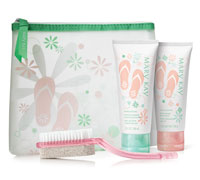 Limited Edition! Body Care/Fragrance Sets (while supplies last):
LTD. ED.! Pedicure Set (Includes relaxing foot soak, soothing foot balm, pedicure brush/pumice stone and coordinating zippered bag)

Invalid Amount: Min=0 Max=999
Fashionable feet. Fabulous value! the Pedicure Set helps your customers get sandal-worthy feet for spring. They can skip expensive spas and come straight to you for a beautiful bargain.


I have a couple of AWESOME spring/summer nail polish colors to go along with this awesome set!

Any MK orders from now until May 12, I will donate 20% to the Mary Kay foundation for cancer research.

Let's have a "pretty toes" party!!